We have had a very busy summer and have needed more folding capacity… So we bought some! A sudden and very large scale demand for our services over the summer months quickly highlighted the biggest bottleneck in production being at our folding facilities. As the Directors are confident that this demand will continue the only solution was to invest in some shiny, new equipment.
As the expansion was ahead of our original schedule, the company sought funding assistance from the local government. First contact was made with "Make It York", who came to visit us to discuss industry issues. The issues discussed included recruitment and cash flow restraints from increased costs such as auto enrollment, raw material prices and the desire the provide the workforce with increasing pay packets ahead of the living wage. The best solution for such issues is to increase "productivity" through investing in faster machinery and providing customers nationwide with a speedy service to create a cycle of increased orders.
Connections were made and an application was entered to the Leeds City Region Enterprise Partnership (The LEP). As part of the application, we were able to successfully demonstrate that the new equipment would create two new employment opportunities permanently inside the region. The equipment will also be utilised to secure orders for sheet metal folding from across the UK as a whole and not just within North Yorkshire.
We are pleased to announce that the application was successful and as a result we received a grant of 20% of the project value. We have already created the two additional jobs and our latest machine has been installed!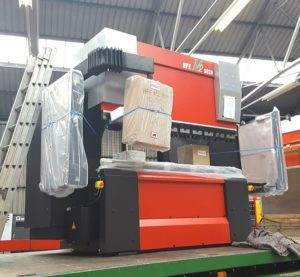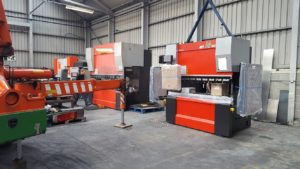 The new Amada HFE MKII machine is fresh off the production line. It is a 2 metre, 70 ton press brake with 8 axes. This means that it is ideal for thinner and shorter parts compared to our other two heavy duty press brakes. This will give us a great capacity boost on components which are 3mm and below in thickness. With fully automatic backstops, setup is quick and with the CNC controls parts are saved to our database for excellent repeatability across multiple batches of components.
Thanks to the Business Growth Programme and The LEP we are able to move forwards as a business to make the most of the current manufacturing boom. If you have any requirements for folded sheet metal components, make sure to contact our sales team today at sales@yorkshireprofiles.co.uk