Metal and Steel Galvanising from Yorkshire Profiles
Galvanising is a process by which sheet metal is coated with a protective layer of zinc, and this is yet another of the third party services Yorkshire Profiles can offer to complete your components.
Galvanisation prevents rust, which is very important for materials which are likely to see a lot of exposure to rain or adverse weather conditions. Zinc naturally resists the corrosion process, which makes it an ideal material for this sort of job.
The most frequently used method of galvanising is hot-dip galvanization, which sees your desired item dipped into a tub of molten zinc. The best thing about this process is that even if the zinc is scratched, it will still protect the metal underneath so that you will always have an all-encompassing level of protection that other methods simply cannot match.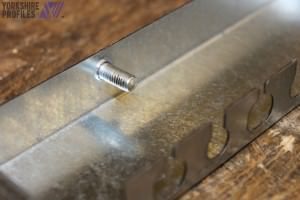 What is Galvanising?
Galvanising is a French term and is where the process found its origins. It has undergone a wealth of changes since then, but the earliest record of usage as we know it today was discovered on Indian armoury from the 17th century.
As well as hot-dip galvanisation, electro-galvanisation is also available and is readily used on automobile bodies to ensure there is extra protection against rust. It's a method that has proven itself time and time again, and is one we thoroughly recommend here at Yorkshire Profiles.
Other Methods of Galvanizing
There is also another method available to provide a galvanised coating that does not involve a bath. This is known in the trade as mechanical (or dry) galvanising and is a process that is performed at room temperature and is used mostly on items such as fasteners.
We know our customers have come to expect a certain level of quality when it comes to our products, and due to this we ensure we employ only the best third party companies to assist us with the services we provide for our valued customers
You can be sure if you chose to galvanise any of your products with us that they will be finished to an incredibly high quality, all of which will be overseen with our own eyes with our customer's values at heart.
Our Services
Galvanising will provide you with a tough coating that will last for a long time to come. It's quick to do and provides flawless finishes each time. If you're interested in the process then please get in touch with us to find out more. We have a wealth of knowledge about the galvanisation process and would take great pleasure in sharing our expertise with yourself to ensure you are left with an excellent product.
If you'd like to find out more about the high quality galvanising services we offer, please give us a call on 01904 737095.