Metal Folding Services from Yorkshire Profiles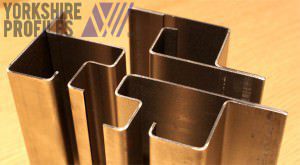 Sheet Metal folding is part of the forming stage within metal sheet fabrication, and can be a complex process. Here at Yorkshire Profiles, our folding equipment provides a wide selection of angles so that we can shape your desired sheet with ease. Yorkshire Profiles are experts at all aspects of sheet metal fabrication and we have a wealth of experience in folding metal.
We can run our machines 24/7, providing quick turnaround times at a competitive price. Based in Yorkshire, we're proud to offer our metal sheet fabrication services across the country. Be it a small personal job, or large scale production, no task is too big or small for us, and we're dedicated to providing quality products couple with outstanding service.
Our Sheet Metal Folding Equipment
We can fold materials of various thickness provided they are up to three metres in length, thanks to our press brakes – which have seven axes. We can also save the details of your parts to our database, so that if you require any more of the same fold, we can provide it straight off the bat.
We use a 170 ton Amada press brake that allows us to fold a wide variety of sheet metals of different levels of thickness. Due to the size of this equipment, we can accommodate sheets of metal which are up to three metres in length, which, if we may say ourselves, is rather impressive!
We also have an 100 ton Bystronic press brake to increase our folding capacity, and this is ideal for the thinner mass produced components.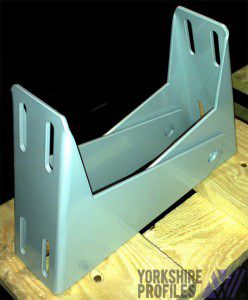 This feature is something we are very proud of here at Yorkshire Profiles, because it is important to us that we can deliver the best services out there to our customers.
With the help of the CNC, we make the entire experience even easier for our customers. This helps save ourselves time – which means that we can dedicate more of our time to getting down to the nitty gritty; getting the job done quickly and to an extremely high standard.
We can even make adjustments to the specification too, which makes repeat orders even easier. It's possible for us to quickly ascertain what your specific requirements are. For this reason, our CNC system is great for any customer who needs large batches of the products. We can provide these for them at regular intervals, as it makes the entire process much easier and smoother for everyone involved.
Safety Edge Tooling and Roller-v Tooling
As well as our state-of-the-art CNC system, we have invested a lot of time and money into making sure we have as many tools at our disposal as possible, so that we can meet all of our customers' specific needs. We are equipped with both safety edge tooling and roller-v tooling, which means that we can offer customers a highly specific and expert range of services.
Safety edge tooling allows us to add a tight 180-degree fold onto the edge of a sheet of metal, in order to eliminate the chance of the sharp edges which can be extremely dangerous and cause cuts to anyone who comes into contact with it.
This is a fairly standard practice throughout the field of sheet metal fabrication, but it is one we have down to a tee and have come to specialise in. We take pride in absolutely every single aspect of the job, and cut no corners whatsoever.
The roller-v tool comes extremely handy on materials which have a specific finish to them, as it helps to prevent any marking or damage whilst it is being shaped and folded by the press brake. We feel it is important that we offer services like this, because it means that we can give our customers some of the best sheet metal fabrication results out there.
Yorkshire Profiles and Sheet Metal Folding
We are continuously on the look out to improve our equipment and tooling, and are quick to implement them when necessary. We are prepared to invest time and money in whatever will help us to retain our fantastic reputation as quality sheet metal fabricators who deliver unbeatable services.
Sheet metal folding is a rather complicated craft, but thanks to our great array of tools, we can do the job both quickly and accurately. This also means that we can get through a lot of work and not keep our customers waiting for their products any longer than necessary.
If you wish to find out more about the services we offer, please browse the other sections of our website.
To see how Yorkshire Profiles can provide top quality metal sheet folding services to you and your business, give us a call on 01904 737095.