Fast and Affordable: Countersinking Services
As well as our expert sheet metal folding services, we offer a range of other services that can customise your sheet metal to your exact wants and requirements. Many of our customers require countersinking in their products, making this an extremely common request in sheet metal fabrication.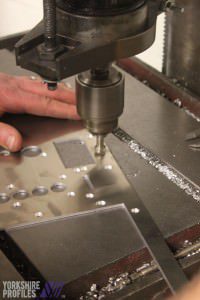 Here at Yorkshire Profiles, we're proud to offer a comprehensive sheet metal fabrication service across the UK. We provide a dedicated service that always strives to improve and develop to ensure we always meet our client's needs in the best possible way.
For this reason, we specialise in the provision of countersinking, and consider ourselves experts in this field.
What is Countersinking?
Countersinking is a method of fabrication that creates an conical hole to allow the insertion of a rivet, bolt, screw or any other fastening device. This is so that the fitted device will sit flush with the rest of the sheet metal, and the sink is made within an existing hole.
The result is similar to standard screw opening. For instance, the way the hole is cut and threaded is exactly the same save for one major difference; at the top of the opening, a specialised piece cuts a much broader hole, and this is what allows the fastening piece to sit even with the surface.
Benefits of Countersinking
Countersinking has an array of benefits, yet if you're unsure as to whether you require this service we're happy to work with you to establish your fabrication needs.
Firstly, it allows a manufacturer to produce a smoother finish to their fabricated objects, without the screw heads sticking out. This not only improves the appearance of the product, but has some structural advantages. With a flush fastener, the screws or bolts can be covered, protecting them and increasing their structural lifetime.
The second advantage to choosing a countersink method is that it can often prevent exposing harsh edges. During the cutting of a screw hole, as with the fabricating of all materials, the sharper the angle of cut that is chosen, the sharper the edge left will be. The conical hole that is created by a countersunk method creates the aforementioned wider angle, reducing the sharpness.
Through this process, another feature is that materials are deburred and colour variations are removed due to the initial cut of a countersunk hole.
Other uses of Countersinking
Another process many of our clients take advantage of with countersinking methods is called dimpling. This is where the conical holes are created in long rows and columns along sheet metal. The upshot of this is that the structural stability of the fabricated materials is improved and the sheets can easily be stacked atop one another for easy transportation.
Yorkshire Profiles Countersinking services
We are confident that we can take on any countersinking job for any customer and produce excellent results. If you would like any information on our countersinking – or you simply have a question – please don't hesitate to get in touch today. We can countersink sheet metal to a number of different chamfer angles, and can guarantee that the results are astoundingly accurate and professional looking.
For more information on countersinking and out specialised services we offer, call us on 01904 737095.