Anodising Services
Anodising is a third party service that Yorkshire Profiles can arrange for our clients. For those of you who are unaware of exactly what anodising is, it is essentially a process by which your metal is treated and coated with a protective oxide layer, meaning it is more hard-wearing and durable when it is used for its intended purpose, whatever that may be.
Aluminum is the most commonly covered metal in this process and requires an aluminium-oxide coating, but regardless of this you can also cover other metals such as magnesium.
About Anodising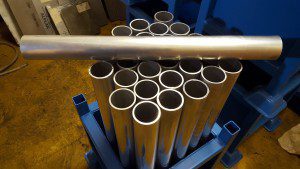 There are various areas of anodising that are known as 'Chromic Acid Anodising',  'Hard Anodising' and 'Sulphuric Acid Anodising', and each of these three processes have different benefits, all of which depend on the type of metal you are trying to cover.
The process of anodisation has made way for aluminum to become such a widely used and versatile product, and we're sure if you trust Yorkshire Profiles to organise the anodising of any of your materials that you will not be let down.
Known as an electrolytic passivation process, anodisation first found its way to usage on an industrial scale in 1923 and has since gone on to cover exciting and innovative projects such as satellites in space, as well as a wealth of well-known architecture.
Perhaps one of the best things about anodising is the fact that it is extremely environmentally friendly. In a world that is becoming ever more eco-conscious, anodising is becoming a more appealing way to coat your metal with every passing day.
An added benefit of anodising a surface over other metal covering processes is that it will also allow for it to be dyed a different colour. Technology that makes use of this include the iPod, and it's a process that will enable you to adopt another level of personalisation to whatever product you are anodising.
The process known as hard anodising is most common in this sector, and will provide you with a finish that looks good, is durable, and will last a long time.
How does anodising work?
You can trust that anything applied by anodisation will not chip or peel away due to the way in which it is merged with your metal. Anodisation doesn't simply place your chosen covering on the surface of your product like other methods, but rather it ensures it actually merges and becomes one with the product underneath.
This allows for a permanent link to form between the cover and the surface underneath, meaning it's durability levels are beyond any other type of metal coating.
Yorkshire Profiles anodising services
We take pride in providing our customers with excellent rates or service, and in doing so ensure that we only adopt the best of third party help. All of our sub-contract suppliers are frequently evaluated as part of our ISO9001 standard.
If you're interesting in anodising any of your metals then please do not hesitate to get in touch. We will be on hand to assist with any further help you may need.