Sheet Metal Fabrication Services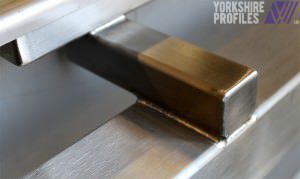 As a company, we offer a number of sheet metal fabrication services. From bending, cutting and welding right through to countersinking, tapping and deburring, we can provide a comprehensive fabrication service for all your sheet metal needs. In this section, we'll be looking at a summary of what fabrication is and how we provide these services. From mild steel fabrication services to aluminium sheet metal fabrication, we cater for all.
Our fabrication services include the following:
Metal Folding
MIG Welding
TIG Welding
Spot Welding
Stud Welding
Weld dressing and de-staining
PEM Inserts, Clinch Nuts, Stand-offs etc
Countersinking
Tapping
Sawing of tube, box section or extrusion
So, What is Fabrication?
Fabrication is a term used to describe the process of manipulating and preparing raw materials for a variety of purposes. In regards to the work carried out here at Yorkshire Profiles, our laser cutting machines are specialised for working with metal sheets.
Should a company need anything from sheet metal for gantry or panels, through to highly detailed parts for automotive engines, sheet metal fabrication machines can be used to quickly and accurately produce these objects.
Laser cutting can efficiently and precisely shape metal to sub-millimetre accuracy. The benefits provided by our equipment ensure that we can have them working 24/7, and the digital input from computer assisted design software ensures there is little chance of error with a clean cut every time.
Whilst we can cut a wide variety of metals, we commonly fabricate:
These are some of the best materials available for clients. Our expertise in fabricating and ability to provide quick turn around times allow us to offer competitive prices.
And How do we Fabricate Metal Sheets?
Metal sheet fabrication begins with the design stage. Our 3D development software allows us to design exactly what you want, which we then make with our state-of-the-art machinery and equipment. If you have your own 3D designs, you can send them to us and we will take it from there.
Once we have established what you require for your metal fabrication needs, it then moves onto the cutting stage. Here, metal sheets are cut down to size in what is known as the material removal process. Everything from holes to specific cutouts can be done, and the wide possibilities stretch so far that we can produce any 2D geometric shape.
Once the parts are cut, any countersinking or other hole detailing will be added as this can be trickier after the part has been formed into a shape.
After this, the deformation process can bend or stretch the sheets to various angles and complex contours. What were previously time consuming and hazardous processes are now completed in a matter of minutes, due to the incredible technology of our fabrication equipment.
Once the parts are cut, detailed and folded, the next stage is to weld it all together! Once the welding is completed to a professional standard it will be dressed off and de-stained ready for any plating or powder coating.