Consistent and Smooth: Deburring Service
After all of our modifications, we can remove the burring in order to make the material look and feel much smoother. Burring, for those of you who aren't aware, is the small raised edges and imperfections which remain on a material after it has been modified (by such processes as folding, countersinking and tapping). When we remove burring, the process is know as 'deburring'.
Deburring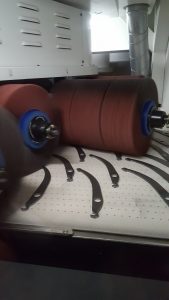 We understand that some customers would rather we didn't deburr for whatever reason, and if this is the case you should specify on your order or the drawings you provide. The deburring services we offer are quite remarkable, allowing us to go over any potential imperfections and complete the job in an extremely professional way.
We use 8 large brushes rotating in different directions to ensure that all faces are deburred thoroughly. Thanks to the automation of the machinery we use, we can provide a more consistent finish than those using handheld deburring equipment. We ensure that we have multiple sets of brushes to ensure that there is no cross-contamination between stainless steel and mild steel parts.
Unlike many of our competitors choice of equipment, this machine can hit the parts from all angles equally, where-as the standard designs tend to only hit from one direction requiring multiple passes, adding to both time and cost.
For deburring we can also use our industrial rumbling machine (AKA a 'rumbler'). This is a large machine filled with smooth ceramic stones that aggressively vibrates with the metallic components inside. This has an action similar to the ocean, it wears away a small amount of the surface and edges of the components, not enough to affect tolerances, but enough to remove sharp edges and defects. A massive plus for those of you who require a picture perfect finish!
Another benefit of our equipment is the ability to either deburr the top side of polished materials with the plastic coating on or we are able to set a grain direction to ensure that the DP1 face is not damaged.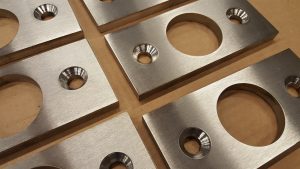 Microtags and Removing them
Microtags are added by the laser software and in most circumstances are unavoidable. The initial microtag usually measures 0.5mm and is a small bit of material which remains on the component to stop it from tipping during the cutting process. If it were to tip, it could result in a collision with the laser head. Small holes will often be allowed to tip and fall into the table of the laser and large cutouts and components will be stable enough on the laser bed to not require a microtag. However, small components and medium sized cutouts (around the 150mm wide area) are a risk and will be tagged in place.
The result is a small pip on the inside of some cutouts or the external of a part. Usually this final pip which remains on the part is very small (around 0.2mm long and wide) and is left on the final components, however if it is critical that all components are cutouts are pip free we have the tools to remove these and leave a smooth finish.
As this can be time consuming with larger batch orders the default is to leave the pip on. This problem is not unique to Yorkshire Profiles but any company that uses a flying optic setup (which includes most lasers, plasma cutters and waterjet machines).
If you have any more questions about the deburring or microtag removal services we offer, please contact us on 01904 737095.